March 25, 2008
Time was running. Only 5 weeks left until our vacation time starts and still no idea where to go!
At the ITB (Berlin Tourism Fair) in March we had a nice meeting with a travel agent from the Cayman Islands. She told so enthusiastic about her islands, that we were sure to visit the Caymans once in a while. After our travel agency told us that most payable flights to the Caribbean were sold out we remembered the Caymans right in time but most of the guesthouses were already booked. Initially we wanted to visit Little Cayman but no way. At last we found "Sea Spray Cottage" by coincidence.
We book our flights with "Delta Airlines" for a reasonable price and the most important: we have a lot of luggage for free! Two times 22 kg and additional 18 kg cabin luggage per person. Very good for our DXpedition. We don't need that much but the usual 20 kg per person is normally not enough with all our ham stuff and snorkeling gear. This time we probably don't have to pay any overweight!
We will arrive our destination Cayman Islands on Monday morning, April 28, after about 30 hours with stopovers in New York and Atlanta - that's quite a bit hard, but compared to shorter flights and less luggage we are lucky that we got these flights.
I sent my ham radio license application by email to the Cayman Authorities end of March and - believe it or not - they answered the same day! I got my license and my preferred call sign ZF2GU already after three days. A new Caribbean record.
We immediately start to prepare our trip. I check all my ham radio stuff like aerials, hard- and software and my XYL our snorkelling gear and her MP4 player with a few audio books and her favored music.

April 16, 2008
Our preparation is generally completed, T-shirts are ordered, our "plant-sitter" knows about his job, rig is doing well and my HF9VX blinks like a new one. We are waiting for departure.

April 26, 2008
My rig is stowed away and I have changed my 12m fishing rod to an 18m high glass fiber pole for my 160m Inverted L antenna.
We both have butterflies in our stomachs - if it only was Sunday morning, when our plane leaves.

April 27, 2008 - 10:00
Shock!!!
The guy at the DELTA counter tells us, that the plane is overbooked and there is only one seat available. We must have looked like wet and beaten cats.We have seats for the flights from New York to Atlanta and from Atlanta to Grand Cayman but none from Berlin to New York. We weren't able to believe it - but we are only on standby.
20 minutes before departure the guy tells us we have our seats now. Ooomph!
My XYL sits about 25 rows away. But that's no problem. We are in!
After the imigration procedures in New York we are lucky that all our luggage was on board. It's a hard piece of work to carry our equipment from the baggage claim to the transit counter. We stand in a long row and move our 5 bags and tubes meter by meter nearer to the counter.
In Atlanta we stay over night with all our gear at the County Inn near the Airport.
April 28, 2008 - 06:30
We get up early to catch the plane to Cayman Islands. It leaves at 10:25. Same check in procedure - a long row and moving step by step. But that doesn't care! We are in good mood.
Cayman, we are coming!

April 28, 2008 - 14:15
At least! We arrive in Grand Cayman Island 33 hours after getting up in Berlin with j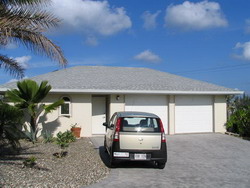 Our cottage on Grand Cayman Isl.

ust a few hours sleep.
We get our already rented car and an hour later Bill, our fiendly host, welcomes us heartily.
Our QTH is a well equipped cottage beside our hosts house. The room is about 360 square feet of size with kitchenette.
It is a very tranquil place at the end of Sea Spray Drive. Plenty space for antennas.
Exactly the place we were looking for (okay - no beach right behind the house for my XYL, so she has to walk half a mile for the next beach access).
First of all we need some food for the next days, so we unload our little Daihatsu and go on a first shopping tour.
We are surprised of the big variety in the supermarket. Price level is a "little" higher as in Germany but you can get all you want - fruits and vegetables are of good quality.
But ... Rhum is horrible expensive. Normally a litre costs abt 7-8 US$ in most Caribbean countries but here abt 38 US$ (in words: thirty eight). My appetite for a "Cuba Libre" vanishes in a second ... If you are planning a trip to Cayman Islands be sure to bring a bottle or two with you.
After a welcome beer with Bill I look for a place for my HF9VX vertical. The antenna ground is just plain rock, limestone with sharp edges. I have to take care not to stumble and fall.
I assemble the HF9VX and put it on the rocks only held by three guy ropes. I can't hammer the mounting tube into the ground. It just stands in a small hole on the rock.
A first tuning test shows that most of the bands are tuned well except 17, 20, 30 and 80m. But it is getting dark before I can tune the rest of the bands. At 00:38z I log the first QSO on 40m with DM4MM. After three hours I have almost 300 QSOs in the log but the weights on my eyelids are getting heavier and heavier so I close down for a little sleep. I get up at 05:00 local time and call CQ on 40m. A few VK stations come back with good sigs and after a while I work a bunch of Japanese stations with 599 sigs too. Antenna and rig seem to work fine.

April 29, 2008
The rest of the bands is quickly adjusted at my HF9VX. But I am not satisfied with the 20m adjustment. I get only abt 80% of the power out. I still have no solution. I change settings several times but no better results. All the other bands are working fine.
Condx on the high bands are not worth to mention in the morning time so we start for a first sightseeing tour around the island after breakfast.
Temperature is about 26° C (80° F). Exactly our weather! The only problem is, it hasn't rained since Christmas. The plants need the water badly.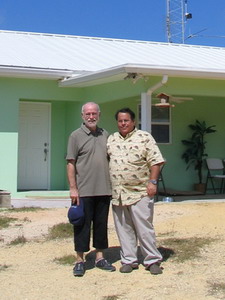 Visiting Andrew, ZF1EJ

On our way we visit Andrew, ZF1EJ who provides the club station ZF1A in Savannah. We are very impressed of all the aluminum in his yard. Great stuff! Andrew invites me to operate from his property. I think I will make a few QSOs during the weekend's ARI contest.
We are back at 17:00 local time. Our host Bill and I erect the 160m antenna. No easy game on that rocky ground and the bush. It is getting dark before all guy wires are fixed. But the lower ones in about 7m on the 18m pole are okay so we decide to wait until next morning to fix the rest.

April 30, 2008
I get up at 05:00 and work a few Japanese stations then I fix the upper guy wires after sunrise.
A dead palmtree guys the end of the inverted L about 6m above the ground. It is the highest point around here.
I need more than an hour to get the four 20m long radials arranged. They seem to grow together with the shrubs.
All is ready but the frequency is too high, so I put another piece of wire and all is okay. I'm ready for 160m.
Tonight I will start the rumble on the topband. I hope condx are with me.
But until then we leave again for another sightseeing tour. We are on the way to Seven Mile Beach and the West Coast.

May 1, 2008
00:47z. My first CQ call on 160m. P43JB comes back immediately with 599. The antenna is working fine but QRN is huge. I get only 7 QSOs into my log. What a "rumble"! ... Hope for better condx the next days.
40m is the best band. 796 QSOs out of 1087.
From today until Saturday is Carnival on Grand Cayman so I will probably miss the next highband openings to Europe in the early evening hours - sorry. But we don't want to miss this spectacle. I will be late in the ARI contest too. But count on me, I will take part anyway.

May 2, 2008
160m conditions keep poor. Only 16 QSOs and no Europe at all. I have to get the end of the Inverted L higher up - but how? No trees within reach. But I doubt, that this will help a lot.
Totally 1536 QSOs so far.
Today we will go to Hell, ... no, not really! There's a small village called Hell at the northwest coast and one can send postcards to friends stamped at a little Post Office.
We are keeping it the way that we explore the island during daytime when nothing else happens on the bands.
Very bad condx today - no opening to EU on higher bands. So we are on the road again and I wait for the low bands.
After watching the sunset (not very spectacular) at Rum Point I sit again in front of my radio and try to work 160m. Unfortunately something is wrong with the antenna. I can't reach the antenna at night, because it is too dangerous on the rocks. So I have to wait until tomorrow to fix the problem in the daylight.
I just called Andrew, ZF1EJ, to use the ZF1A antennas for the ARI contest during the weekend. So I will try to work as many stations as possible with his 160m Inverted V tomorrow night. I will change with my rig to his shack and do the contest from there.

May 3, 2008
Condx are poor and bands are very noisy this morning.
I log about 50 QSOs on 40m, only a few JA's, VK's and ZL's.
But it has something good too: the first time that I sleep a little longer than 5 hours.
We are leaving after breakfast for a snorkel tour and the "Batabano", the Caymanian Carnival. The recommended snorkelsite at Cemetary Beach has plenty fish but the reef is almost dead. Lots of snappers, parrot fish and a few big groupers and the wellknown small reef fish like "Nemo" and others. Some seem to beg for food, they surround us in less than a yard distance. Next time we bring them something.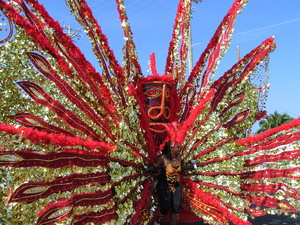 Batabano - Carnival in Grand Cayman

The Carnival starts at 3:30 pm. We stand on a corner right where the Batabano starts.
Reggae music hammers and the colourful crowd in their fantastic outfits passes by for almost an hour.
They have a lot of fun running up and down the road whining and dancing. And we have our fun too. One can't stop the feet from dancing. It is a wonderful chaos.

We return to our cottage to start the ARI contest. It is already running, but the Batabano Carnival had the priority today.
5:30 pm. I pack my rig and the laptop computer to change location. I will be QRV from the Caymanian Club Station ZF1A in Savannah, right around the corner. I am very curious how much better all the aluminum in the yard works but it doesn't take long and I am a little confused. The Log Periodic does not work properly on 40m because it lost half of the longest element in the last hurricane and I can't get much of the 100 watts into the antenna. The 6 element 7-bander has it's best SWR on 40m at 7.440 MHz - in the CW section I have a SWR of 1:3. All stations I call ask me again and again for my call sign - frustrating ... The 80m 2-ele-Beam works fine but condx are so poor that I only work one station in the contest. So I count on 160m with the Inverted V. It works fine, but condx are against me again. I can hear several stations calling me but I am not able to identify the call signs. So I have only 69 QSOs on 160m in my log (at least there are some Europeans amongst them) and 20 (in words: TWENTY) in the ARI contest when I give up after midnight.

May 04, 2008
I overslept the 40m opening to JA and wake up at 06:15. I still get some JA stations on 30m into my log.
Before we leave I rearrange my 160m antenna. It works better now (at least it seems so). The best SWR of 1:1,2 can be found on 1830 kHz. Let's hope for better conditions before we leave. I have a whole lot of skeds for 160m with several EU stations and hope that I can help them with a new one on topband.
Around noon we are ready for the Botanical Garden in the middays heat. We must be crazy but mostly it is my fault that we depart that late... I can't leave the radio and the computer early enough.

The Grand Cayman Blue Iguana

We stay for a few hours.
It is really beautiful here but the lack of water is visible in the woods.
One can walk through a park with a big variety of trees and plants from all over the world, e.g. more than 250 different palm trees - worth a visit in any case.
Very impressive are the Blue Iguanas, an endemic dragon-like reptile which can only be found on Grand Cayman Island. It can grow bigger than a yard of size from head to tail-end.

Then my radio calls me back - I try to make a few contacts on 30m and it works for an hour, then condx are down again.
Let's hope for better condx after yesterdays desaster. Not that I would look for a new DXpedition record but the feedback shows me that not all hams have ZF on all bands and modes. So I hope to fill in a few white spots in their logs.
The log shows 2017 QSOs now.

May 05, 2008
The night was not very successful. Only 124 QSOs, 13 on 160m (10 with Europe).
A real hard job to dig the call signs out of the noise.
But weather is okay and so we go on a snorkel trip to Cemetary Beach. The reef is not breathtaking but a lot of fish again.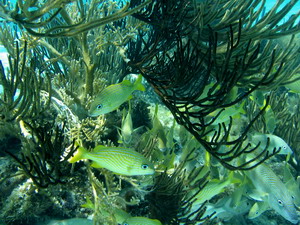 In the reefs - Blues Striped Grunts


A grouper follows us all the way out to the reefs and we are again surrounded by a number of "Zebras" and Jacks. They are about one foot long and look a little like Piranhas. We forgot again to bring a little food for them.
But this time I have my underwater camera case with me and shoot some pix in the reef.
We book a tour to "Stingray City" with "Soto's" for tomorrow and are very curious to meet the Rays in their element.
In the news we hear that some mad guy(s) killed 6 of the very rare Blue Iguanas at the Botanical Garden Sunday night, so the photograph above could be the last one of this beautiful creature. A very big loss for the Botanical Garden.
I have some skeds on the radio with friends, so we are back in out cottage rather early. Conditions are slightly better so I can satisfy a few guys with a QSO.
Today we bought food for the fish.

May 06, 2008
The night in front of the radio was not too bad. I made about 400 QSOs until I went to bed at 01:00 local time. To get up at 05:00 for the Japanese hams was all but easy. I worked just a few of them.
At 11:00 we start for the snorkeling tour to Coral Garden and Stingray City. The boat leaves at 1:00 and after 25 min we arrive at "Coral Garden", a beautiful reef landscape in the North Sound. Plenty fish and lots of different corals. After 30 min we leave the place heading Stingray City. When we arrive, in a minute there are dozens of Stingrays.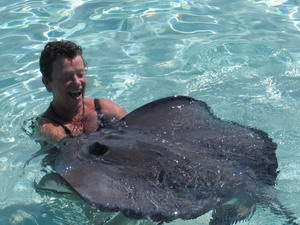 Erika and the Stingray

Some women are too scared to go into the water but my XYL Erika jumps in and is immediately surrounded by Stingrays. I wonder a little that she doesn't show her fear.
But the guide is a real nice guy and the Rays are so gentle that she is happy to hold some of them (of the Stingrays!) in her arms. The big ones have a span of about 5 feet and weigh probably more than 200 pounds (at least that's our opinion - don't blame us, if they weigh only 180 pounds!).
We never thought, that the Rays are so smooth. It is an unforgettable feeling to be in touch with them. When we fed them they lost a little of their good temper, because every Ray wanted to be the first to be fed, the water was rather boiling around us.
We surely will remember this for a long time and it's an absolutely must if you ever come to Cayman Islands.
On our way back to our cottage we have a beer and conch fritters at the "Breeze" in Georgetown. Very delicious - finger-licking good!!
Our host Bill and I during our last meeting


Back in our cottage we say farewell to our hosts Bill and Anne. They will go on a cruise from Vancouver to Alaska on occasion of their Silver Wedding Anniversary. We had a real good time with them and we will miss Bill, the good soul of "Sea Spray Cottage"!
He was a big help erecting my antennas and he always had lots of good tips for us because he knows Grand Cayman Island very well.
We wish them all the best on their cruise to Alaska and a safe return.
We will keep the plants around the house in a good shape.
From tomorrow on a friend of him and his wife will attend the house.

May 07, 2008
No special plans for the day. We will go on a sightseeing tour to Georgetown, the Capitol city of the Cayman Islands.
The night is like the last nights, propagation remains poor - just 131 QSOs.
In the late morning hours we leave our cottage, heading Georgetown.
What a mess - 4 Cruise ships are towed in the harbour. Thousands of passengers in the streets and shops.
We surely don't want to play Robinson Crusoe and Friday but that's too much for us. So we soon fly from the crowd to emptier spaces at the south coast.

My log has "increased" to 2903 QSOs around midnight. A spell seems to lie over the condx. Endless CQs and barely any callers. When anybody spots me in the packet cluster two or three stations appear and then silence again. Even 40m is rather dead.

Tomorrow we will have a dinner at "Turtle Nest Inn", the menue is promising a lot ...

May 08, 2007
Our last week has begun. We still have many plans like SCUBA diving, snorkeling and looking around on the island.
Another low-propagation-night. Not worth to mention the amount of QSOs. None on 160, just calling and calling CQ without response - boring!
After a short dip in the pool I call "Ocean Frontiers" Dive Shop; tomorrow I will have two dives - a wall dive and a shallow water dive. I'm curious ...
We leave our cottage heading Smith's Cove at the southern east coast of the island.
Another nice place for snorkeling.
Afterwards we visit the Butterfly Farm and learn a lot about these beautiful creatures.
On the way to our preferred snorkel place at Cemetery Beach I discovered a beam antenna beside the road - I spoke to the XYL of the owner and she told me her OM would be back on Cayman tomorrow. I will drop in for a short eyeball QSO tomorrow.
Arrived at Cemetery Beach we prepare for fish feeding. It doesn't take much time and we are surrounded by the usual fish crowd. But as we unpack our bread they seem to loose their minds. It is such a "tohoowabohoo" around us and the biggest grouper is so keen on our food, that he looses all shyness and comes up to the surface and because I am not quick enough to let the bread out of my hand he swollows two toasts at once and bites into my right pointing fingertip. The wound is not serious but it is bleeding and I think we won't feed them again. They don't stay away and wait for food as we expected. We get out of the water and drive to a nearby Pharmacy to desinfect the wound.
At night we have the dinner at "Turtle Nest Inn". It is a kind of "Indo-Caribbean" meal and finger licking good.
Here is the menue:
Onion fritters with two Indian chutneys
Deep-fried coconut shrimps with a tangy mango dip
Palao rice with saffron and fried onions
Nam bread
Seek kebabs grilled on the BBQ
Grain-fed filet of chicken
Braised Caribbean cabbage
Fried Plantain
Island grown cho-cho sauteed with onions and potatoes
Mixed green salad with vinaigrette

May 09, 2008
Around 03:00z I am back on 40m CW. The signals are very poor - after about 30 QSOs I quit and go to bed to get up early for Japan. From 10:30z until 11:22z only 10 QSOs - I give up again and catch a little more sleep.
At noon I will leave Erika at "Turtle Nest Inn" for snorkeling and go SCUBA diving with "Ocean Frontiers".
At least this was my plan but the sea is very rough so I change to the Monday's list for a two tank dive. The sea is getting rougher and rougher during the day. Visibility is bad even at our east coast snorkeling spots. So we do a shopping and sightseeing tour into Georgetown and drive home early to catch the afternoon opening to Europe.
Today propagation was slightly better than the days before.
At the fish booth

.
At night we have a delicious snapper at a street booth right around the corner. The Lady who offers it is a Jamaican and she really knows how to prepare fish. Her hot onions are great.

Back in our cottage I try to work 160m again but no signals at all. Not a single US guy around - not to talk about Eureopeans. 80m - nothing, 40m is again the "best" band. The QSO number increases to 3398.
I go to bed early (22:00) because the Alessandro Volta RTTY Contest starts at 07:00 local time and it runs 24 hours.
I hope to make a few QSOs more as usual even when I can be sure in advance to be the country winner, because I am propably the only participant from the Cayman Islands.

May 10, 2008
At 05:00 local time I get up to catch a few Japanese guys (they only have a window to the Caribbean of about an hour). Only one made it into my log.
Then the contest starts at 12:00z (07:00 local time). I start on 20m. Compared to the last days propagation condx seem to be fair. The first hour brings 32 QSOs (all with US stations). Not even an outstanding result. The next hours the QSO number is sinking and so we decide to go out. Snorkelling is rather impossible due to the waves. After a few hours we are back and I switch on my radio. On 40m the power meter shows only half the output and SWR is at 3. Something is wrong with the antenna. I quickly find the source for the failure. The spray (remember: we are at Sea SPRAY Cottage) from the sea has left a crust of wet salt on the coils and also on the insulators. So the insulator is just working as a "bridge". After removing the salt the antenna is working fine again.
At the end of the contest I have only 233 QSOs in my log. Not even a big success but many guys have less due to bad condx. Of course some "big guns" have a lot more. Anyway, I had my fun (and a little frust about the bad condx too).

May 11, 2008
The contest ends at 07:00 local time. After a short sleep we go on an extended snorkeling tour to the north coast. There the sea is rather calm compared to other parts of the island. The visibility is good and the reef just about 100 yards offshore is in good conditions with quite a lot of fish. We stay so long in the warm water that we almost get fins. We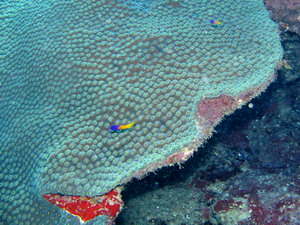 Coral with tiny little reef fish

are lucky that we found this spot. I take a few photographs under water but it is hard to focus the fish. If you get too near they vanish, if you stay too far and zoom them in most of the shots go into the blue because the camera has a rather big delay from pushing the trigger until the shutter works - so the fish is out of reach again or you have only the tail in the picture. I think I never will be a good underwater photographer. But a few pictures are not too bad.
The night in front of the radio brings only about 30 QSOs. The frequencies are very noisy and it is hard to pick up some call signs. The antenna gives up again and I have to clean it. This time I discover a burned trace on the insulator between the middle of the 80m/40m coil and the 40m support tube. It must have given a little firework so I am happy that the transmitter didn't get a hit. At 23:00 local time I close the station and go to bed.

May 12, 2008
We get up very early (06:00) because my two tank dive starts at 08:00. I am very c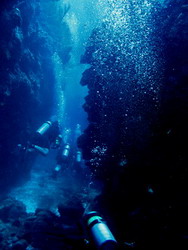 Canyon-Diving

urious, because the sea is still rough. The boat sways in the waves but somehow we get into the water and also out again. The first dive leads us to McKennedy's Canyon, a narrow, about 30 feet deep Canyon. It is an unbelievable feeling to float through it.
Unfortunately I left my camera on the boat. Lots of fish and beautiful corals wherever you look. We go down to 100 feet. After about 40 minutes we surface and change place.
The second dive (with camera) is in shallower water down to 60 feet. This time I take a few photographs. We again pass a few canyons and caves. It is breathtaking down here.
When the flash of my little camera works the taken pictures are great otherwise the blue dominates like in the picture on the left.
We are back at the Dive Shop at 12:00. I'm a little exhausted but happy.
I try a few QSOs on 20m at about 21:00z but not too many guys come back to my calls.
So we go out for a sightseeing tour and to watch the sunset at Sunset House. Another unspectacular sunset.
When we come back I watch the signals on 40m. I make a few QSOs but I am not able to cause any pileup. Condx are lousy again.

May 13, 2008
Our last day on Grand Cayman.
The early morning band opening to Japan (05:00 local time) brings about 30 QSOs with Japanese guys. Not too bad compared to the last days. But the signals disappear as fast as they came up.
After breakfast we get the 160m antenna down. I don't think that the last night might bring a lot of QSOs on this band and I don't want to leave it all for the last morning.
At 10:00 we have to be at the airport. So there will not be much time to disassemble and pack my equipment and the antennas at daylight.
We go out for a last farewell to the places we loved most. The 16 days vanished like snow in the sun.
In the afternoon I am back on HF for some last QSOs on 20m. The last night on 30m and 40m brings exactly 300 QSOs.
At 11:31z (06:31 local time) I have my last QSO with VE3QO, then I close my station.
I get my HF9VX down and disassemble and pack it. At 09:00 all is stowed away and we have a few minutes to take a breath before we leave for the Airport. A last dip in the pool and a farewell to Pete and Mary Ann, the very nice couple, who lives here while Bill and Anne are on their cruise.

We return the car at the Avis counter. The speedometer shows 1217 km, so you may imagine that we saw a lot of the 40 by 10 km "big" island.

Our plane leaves at 1:07 pm. Our flight back home takes 26 hours via Atlanta and Paris to Berlin.

We wish Bill and Anne a safe trip to Alaska and back and want to express our grateful thanks for the beautiful time we had here on Grand Cayman in their cottage.
We leave with many good memories and will remember our stay for a long time.
A great place and a great people.

GOOD BYE CAYMAN ISLANDS !

Some statistics at the end:


| | | | | |
| --- | --- | --- | --- | --- |
| Band | CW | RTTY | SSB | Total QSOs |
| 160m | 113 | 0 | 0 | 113 |
| 80m | 171 | 0 | 0 | 171 |
| 40m | 2331 | 85 | 2 | 2418 |
| 30m | 821 | 24 | 0 | 845 |
| 20m | 290 | 373 | 0 | 663 |
| Total QSOs | 3726 | 482 | 2 | 4210 |


4210 QSOs within 15 days. That means approximately about 280 QSOs per day. Not so important to set a foot into the "Hall Of Fame". Two years ago I made 4400 QSOs within 48 hours in CQWW CW as HK

Ø

GU, but that was in November.
I don't complain about the bad propagation, because I know about the sun cycles and that stuff but compared to the time I sat in front of my radio it could have been more. But many guys "suffered" from the same condx.
The feedback shows, that some guys worked me as a "new one" per band or mode or at all and that's what counts.
Probably I could have reached better results with beam antennas and/or an amplifier but I don't have any. So it is like it is. And remember: it's just a One-Man-Show during our common vacation.

Thank you all for calling me and your patience to dig me out of the noise.
I hope to hear you all again on our next vacation trip to anywhere in the Caribbean.