We are Erika and Gerd Uhlig from Berlin, Germany, and enjoy travelling to Caribbean islands very much. We have been to several, mostly small islands. Usually we stay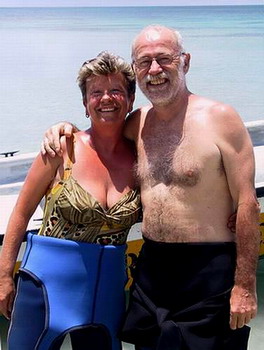 away from the big tourist traps and prefer tranquil places.
I am a ham since 1965 and since 1991- after the Berlin Wall came down and we were able to travel around the world - we never have been on vacation without my ham radio equipment. I enjoy sitting on the other side of the pileups.
My XYL Erika is very tolerant and supports me when ever she can - though she is NOT a ham.

My German call sign is DL7VOG, ex DM6TAN and Y88VO.
I am holder of the Caribbean DXpedition call signs 6Y5/DL7VOG, 8P9GU, C6AKA, HKØGU, J38GU, J79GU, J87GU, V47GU and VP2MGU. My new call sign for the Cayman Islands is ZF2GU.
You can read more about our previous trips on my websites www.dl7vog.de, www.qslnet.de/c6aka, www.qslnet.de/hk0gu and www.qslnet.de/j3-dl7vog.