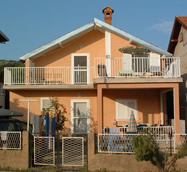 Are you interested to spend a perfect holiday in Croatia? We have a nice place for you. Our house is located in small city Bilice, 5 km near Sibenik city. Bilice is not a tourist centre, so if you prefer a holiday without many people, Bilice is an answer for your entire question. We offer 3 rooms with 2 beds, SAT TV, Grill, kitchen, bath, shower, nice balcony with view to the Bay. One room can be perfect arranged for shack. If you want to use a ham radio station from Croatia, all what you need is to bring your radio. If you have CEPT license, you can work 3 months from Croatia with 9A/home call (9A/VE3ZIK). We can arrange to use our inverted V antenna. At this time there is no possibility to be active with my short wave station. While you enjoying on HF,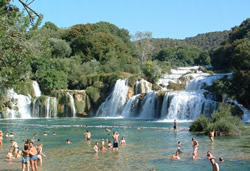 your kids and lovely wives can swim in water, just several meters from the house. There are a lot of places for picnic and visiting. Waterfalls on Krka River, two national parks, old city of Sibenik, several Islands in neighbourhood (Zlarin, Kaprije etc), city of Vodice, Lake Vransko are just a few of many places you can visit in 20 km area.
A house is perfect for 2 families or 5-6 people.
If you are interested, please visit Bilice.Info for some more inforamtion.