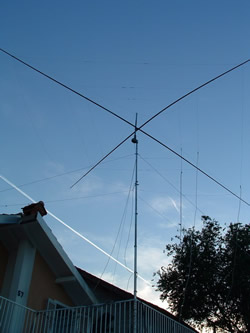 May's activity from Croatia was very successful. First part of the holiday I had an opportunity to visit several HAMs, including Ivek, T96Q, Andra, YU1QT and Rolando, 9A3MR.
After the e-mail contacts with Ivek, I had a chance to visit one of the best T9 contest station - T96Q. I was very surprised with Ivek's shack - modest stations (FT1000 x 2 etc), amps, QUAD antenna. After the lunch he suggests that we can visit his new contest location. This new location is placed on the hills of Mt. Majevica. At the moment, there is "only" 5 over 5 15m stack. I made several QSO with the call sign T9/VE3ZIK and stack works UFB. FT990 and Alpha gave me the opportunity to enjoy on 15m band. Condx was very bad, but I had a small ZS opening and made over 10 QSOs with ZS stations. Other stations which were in my log came from VQ9, YB, 7P8, PY, YU. Ivek, thanks for everything, and I hope I'll make at least one contest from your super contest location.
Next HAM meeting was with Andra, YU1QT. We met each other on his small relax place, outside of Belgrade, Serbia. There was several HAMs there (YT1DU, YU1GU, YZ1BBP and others) and we had a nice barbeque party. I brought 2 el. Moxon beam from YU1QT and was satisfied with it.
After 8 days in car between YU/9A/T9 I arrived to Bilice. I had problems with the radio and Rolando, 9A3MR fixed it. And of course, he prepared barbeque (again). Just to remind, Rolando is located on the island of Murter, one of the best place for diving in Croatia. Also, at 9A3MR's location small 10m AL tower waited for me (thanks to Gogo, 9A6C).
Unfortunately, the conditions were bad. 15m was almost dead, 10m was totally dead. But, I was satisfied with the moxon beam. It works nice, and I worked almost all what I've been heard: YA on 10 & 15m, some VK, lots of Russian, JA's stations. Under the beam I mounted an inv V dipole for WARC and 40m (about 7m high). I reached very nice stations, including VK6DXI on 12m, A22/JA4ATV on 40m, ZL1AH on 30m... Last day of the activity there were some 10m opening, including several 10m FM QSOs.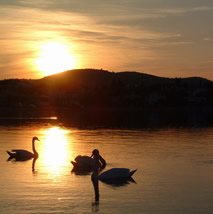 I participated in CQ M Contest (part time) and made around 520 QSOs. My "new" notebook Toshiba 500 MHz made a good job. On Saturday evening we had a strong storm with heavy rain and wind, but moxon beam didn't have problems with wind over 90 km/h. That's one more reason why this antenna will stay for this summer, too.
Summary: 1150 QSO, 16 new DXCC (till now 126), lots of fun.
Outside of radio activity, we enjoyed in nice wetter, small trips around Bilice and - swans. Swans are usual in our QTH and I made some pictures, you will find it into the gallery.
I want to show appreciation to all who made my activity in 9A possible:
My wife, because she understands what is CQ contest and crazy screaming into mikrophone 24h. Also, I am thankful to HAMs who helped with hardware (YU1QT, 9A6C, 9A3MR, YU1GU, T94FC and Acim, YT3W who created this WEB site).
See you again from Croatia, between July 15th and August 15th. I am going to participate in IOTA contest from Brac Island.

Well, lot of things changed. I found another job and the big vacation was impossible. We (my XYL and me) decided to go again to Croatia, only for 5 days, before new job starts.
So, I was active between June 23^rd and June 27^th . I didn't have time to erect the Moxon beam, so I decided to work with inverted V dipole. Condx were strange; during the day 10 and 12m were open but mostly - short skip. This time there were not so many DX into the log except JA's on 30m. 10 MHz was magic band for Japanese. But, 850 QSO into log in 5 days is a very nice result for 100W and inverted V dipole, which was placed only 7m high (top of the antenna). I worked 4 new DXCC: 9M6, TZ, J6 and ZA. Until now, I have worked 130 DXCC from Croatia. I was not active all the time; but strange condx and a lot of EU on 10, 12, 15 and 17m gave me an opportunity to make several new DXCC, especially on 12m band. This time top QSOs were: 9M6/G3OOK (2 bands), TZ9A, J68IS, ZA1MM (17m)
Also, I made with some stations 3 or more QSOs on different bands and/or modes.
Thanks to all who made a QSO with me. Probably, next spring I'll be active from Croatia again.
73, Zik VE3ZIK, DO7ZZ, 4N1DX