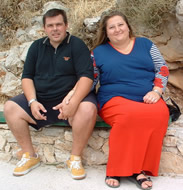 My name is Zrinko Zibert - Zik. I was born in July 1975 and starting with HAM radio carrier in RC Zemun YU1AVA / YU1AVQ in 1989. I passed my first exam in 1990, and through now I used several Radio club call signs: YU1AVA, YU1AVQ, 4N1Z, YU130Z, YZ75AVA, YU21SRJ... I used 4N1DX call sign from October 1998. In April 2002 I moved back to Canada and took call sign VE3ZIK. I also used XM3ZIK in WPX CW 2002.
In August 2002 I moved (finally!) to Germany and married with Zaklina in October 2002. I have a German call sign DO7ZZ :) I am member of Radio Club in Bonn, DL0OV (DOK G03). Also, I am member of several societies: DARC, SRS, SKY CC, VKCC and RRDXA.
Bilice is small city 5 km near Sibenik, Croatia. QTH locator is JN73WS. It is not a tourist centre so I found a perfect place for vacation. The house is only 12m from the Sea so I have a perfect place for DXing.
JA/UA direction is totally opened, W's are still okay, but behind the house there is a small hill so I haven't a clear way to South America. There are a lot of nice places for visiting around Bilice. Waterfalls on Krka River, old city of Sibenik, city of Vodice (one of the biggest tourist place in Croatia), two National parks (Kornati Islands and river Krka)...