I was born on March 29, 1948, in Baranya, in the place of Suza near Beli Manastir (9A), where I graduated the first four classes of my secondary school.
The next three years I attended in Batina and, at last, the eight class I graduated in Bezdan. After unsuccessful career in the Gymnasium of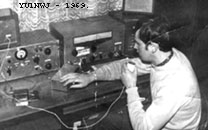 Sombor, the fate took me into the world of electricity.
I had had no contact with Amateur Radio till I came to Army (1967), where I met Andon Upcev, YU4VEM now YU5D, an excellent teacher, who infected me with the wonderful amateur world. In very short time I managed to work Morse and to give my C class examination in the YU4AVW club, in Tuzla (Bosnia-Hercegovina E7). Beside the knowledge on amateur radio traffic, I got some knowledge on installation and reparation various radio sets in use there.
In Sombor, 1969, I managed to get my B amateur class and started DXing with my home made rigs, under the callsign YU7NWJ. During 1973, I bought my first factory made shortwave transceiver; that was Yaesu FT-101, which is still in use today. In 1976, in front of Laza Isakov, YU1NGO, and others, I managed to get the highest amateur class - class A. Still having been active on the amateur radio, I started loving one more amateur thing - amateur radio direction finding. This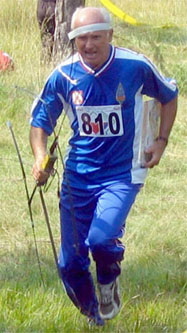 activity commenced with two HF ARDF receivers, given as a present from the Baja radio club (Hungary) 1973. Since the next year up to these days, I have never missed to take part in ARDF competitions organized by SRJ. I won many times in the SRV range competitions, but also many times in SRJ championships, and since 1978 I have taken part in many international competitions as a member of SRJ team. My best successes were achieved together with Brano Brajovic and Drago Petrovic, in the category Older seniors. On WORLD ARDF in Sarajevo 1986, as well as in Beatenberg (Switzerland) 1986, we won the third place and bronze medals. My best personal success was the first place on VHF, on the big international competition ih Chechoslowakia 1989.
My litle ARDF story >>> YU7AM - ARDF - (članak u časopisu RADIOAMATER)

I am still active with my radio station and, in recent time, more and more I am using digital mode communication. Beside the packet radio for which I am using a separate computer, I love to work PSK31, SSTV and, most of all, RTTY. With RTTY, I was one of the first YU operators, starting as early as 1975. I often won very high places in the world wide competitions - the first, the second, the third (WAE, BARTG, ARRL, CARTG, OKDX...). For RTTY, I am using software WRITELOG. For the DXCC list - I have worked: Mixed 348, Phone 336, CW 339, RTTY 333 countries.
Recently, I am retired, so that I have free time to run, keeping my physical condition high, what is important for participation in ARDF activities.
During these trainings, I met marathon runners, who persuaded me to try in their races. Successfully, I run out 70 half-marathons 21.1 km - in Sombor, Novi Sad, Beograd, and Podgorica with best time achieved 1:43,39. In 2008. i have 12 times full marathon 42.197 m. - my best results : 4h 18 min 31 sec. In 2015. y. running my first ultramarathon, from Osijek (CRO) to Apatin (SRB) 52.3 km. 6:03:24 .
Running my first full marathon >>> video >>> Certificate Gallery