3cm 10GHz
This is a third generation beacon, it is entirely synthesized using a DDS AD9912 as LO. A Thunderbolt GPSDO is used to generate 10MHz, and a 1 GHz Crystek V-CRO is locked to this reference using the
AD4107 xlock PLL
. The Crystek CRO provides the DDS Clock. The beacon is DB6NT, with XO removed. The 10W PA operates at 5W into a slotted waveguide.
---
1.2cm 24GHz
This is a second generation beacon. A Thunderbolt GPSDO is used to generate 10MHz, and a G8ACE VCXO LO is locked to this reference using the
xlock PLL
. The mast unit consists of a surplus multiplier chain to 12GHz, a doubler and a 500mW high gain surplus amp. The 2*12 slotted waveguide was provided by the late W3IY. The A1A modulation currently uses a PIN switch causing some FM, but the carrier stays in 100Hz on average with slight warbling. We have decided not to further explore the XO route, concentrating on a DDS for LO generation, so no effort was done to further optimize. The PLL loop is not very wide, a few 10s of a Hz.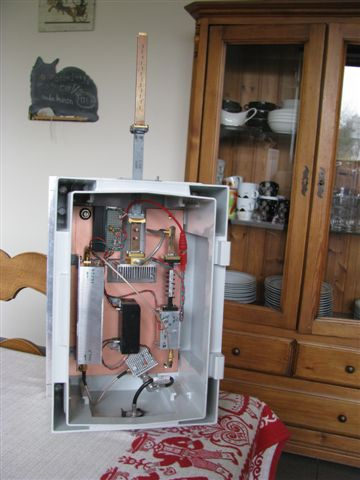 The exact frequency is 24048049,03.


A B N R IF QRG XTAL
6 1532 12262 979 0 24048 122.250260