EME Activity:
First of all, many thanks to Al/K2UYH who has supported the entire EME equipment.
The weather conditions were quite strange on the island. There was always a more or less strong wind blowing that made it difficult to point the antenna all the time exactly to the moon. Also this wind carried quite some salt water and dust. Now, each push on a button of the laptop creates a crunchy noise due to sand. The feed of the dish looks like it was outside for more than two years.
23cm EME
We tried to satisfy as many OMs as possible. Unfortunately a test in the Florida Keys already showed that the PreAmps die for some odd reason. We got three additional PreAmps from Randy/K9BCT. Thanks a lot Randy!! However, everything seemed to work on the Cay Sal Bank and we QSOed one station after another. The power went off during the QSO with K2UYH. When the power came back on, the PreAmp did not work anymore. I change it and continued to work Al. However, the next day we turned everything back on, the preamp again did not work. I could not see anybody in the spectrum with the third PreAmp, even so the noise sounded good.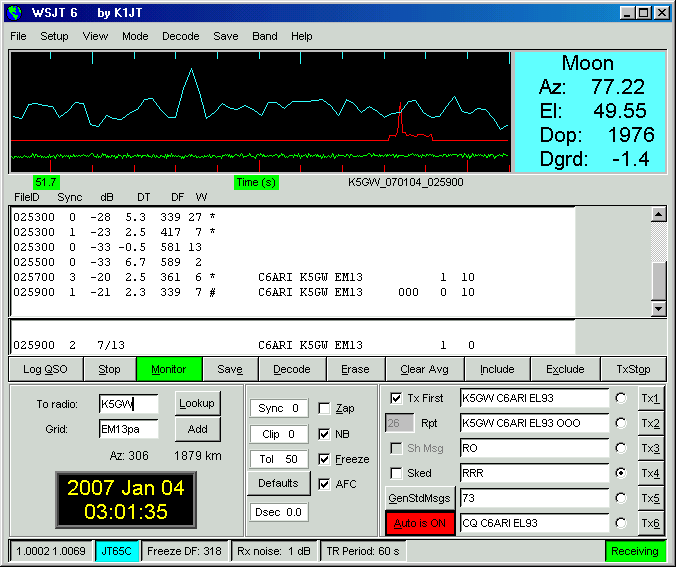 With all the problems that we had, the following stations can be happy about a new DXCC in their log:
G4CCH
K5GW
OK1DFC
HB9Q
DJ9YW
OE9ERC
W5LUA
K2UYH
PA3CSG
The strongest signal was from Erich/OE9ERC. He gave me a -15dB rapport and could hear me well in the speaker. After we switched to CW we did not hear each other anymore... to bad.
Some stations already reported me that my signal used to be stronger using my single yagi only. For smaller DXpeditions I would always prefer a yagi instead of a dish. There is just to much that can damage and it takes much longer to set it up. Other than that, Al's dish gave me some ideas for a portable dish. I might build something on my own.
70cm EME
Only one station made it in the log of C6ARI on 70cm. I worked HB9Q with -25dB. I also copied Bernd/DL7APV but he did not seem to respond. I barely decoded him using the DSD with -29dB. No other station was copied on 70cm. I did not even see anything in the spectrum. A CW QSO would have been possible with signals of at least -19dB.