Funkbetrieb auf den Malediven
(radio operation on the Maldives)
Operator: Gerd Sapper DJ4KW
Standort (Location): Kuramathi, Rashdoo Atoll
Station 8Q7AC / 28-JAN-1999 - 09-FEB-1999
Transceiver: ICOM 706, Power Supply PS85. RTTY: SCS PTC. Ant: 30 m lw
Stationsfoto und QSL-Kartenvorderseite. Rechts oben die Lizenzurkunde.
An dieser Station fehlen drei typische Dinge. 1. Kein Mikrofon, da nur Telegrafie und wenige Fernschreib-Verbindungen gefahren wurden. 2. Keine Taste, 3. Kein Logbuch. Der kleine Hewlett Packard hp200LX Palmtop entspricht einem IBM 8086 PC mit einer seriellen Schnittstelle, darauf läuft ein uraltes K1EA Programm zur Logbuchführung und Sendertastung; über die serielle Schnittstelle lässt sich der PTC II für verschiedene Fernschreibverfahren bedienen. Ein weiterer Palmtop hp100LX (rechts unten im Bild) diente für Sicherheitskopien und für das Programm GEOCLOCK zur Berechnung der Sonnenstände in anderen Ländern. Die besten Verbindungen ergaben sich zur Zeit des Sonnenaufgangs und Untergangs, wenn in den Ziel-Ländern gerade Sonnenunter- oder Aufgang war.
Station and QSL card front side. On the top right side the license document. In this station three typical things are missing: 1. There is no microphone, since only Morse-telegraphy was used and a few radio teletype contacts were made. 2. No telegraph key, 3. no logbook. The little Hewlett Packard hp 200 LX palmtop is IBM 8086 compatible with one serial port. It runs a very old version of the K1EA program for log keeping and transmitter keying. Another palmtop hp 100 LX (right bottom of the picture) serves as a backup and for the GEOCLOCK program to calculate the position of the sun in other countries. The best contacts were possible during sunrise or sunset, when in the target countries there was sunset or sunrise at the same time.
---
Anfang desAntennendrahts
(start of the antenna wire)
Antenne: 30 m Langdraht
Antenna: about 100 feet long wire
---
Antennendraht zum Nachbarbungalow
(antenna wire to the next bungalow)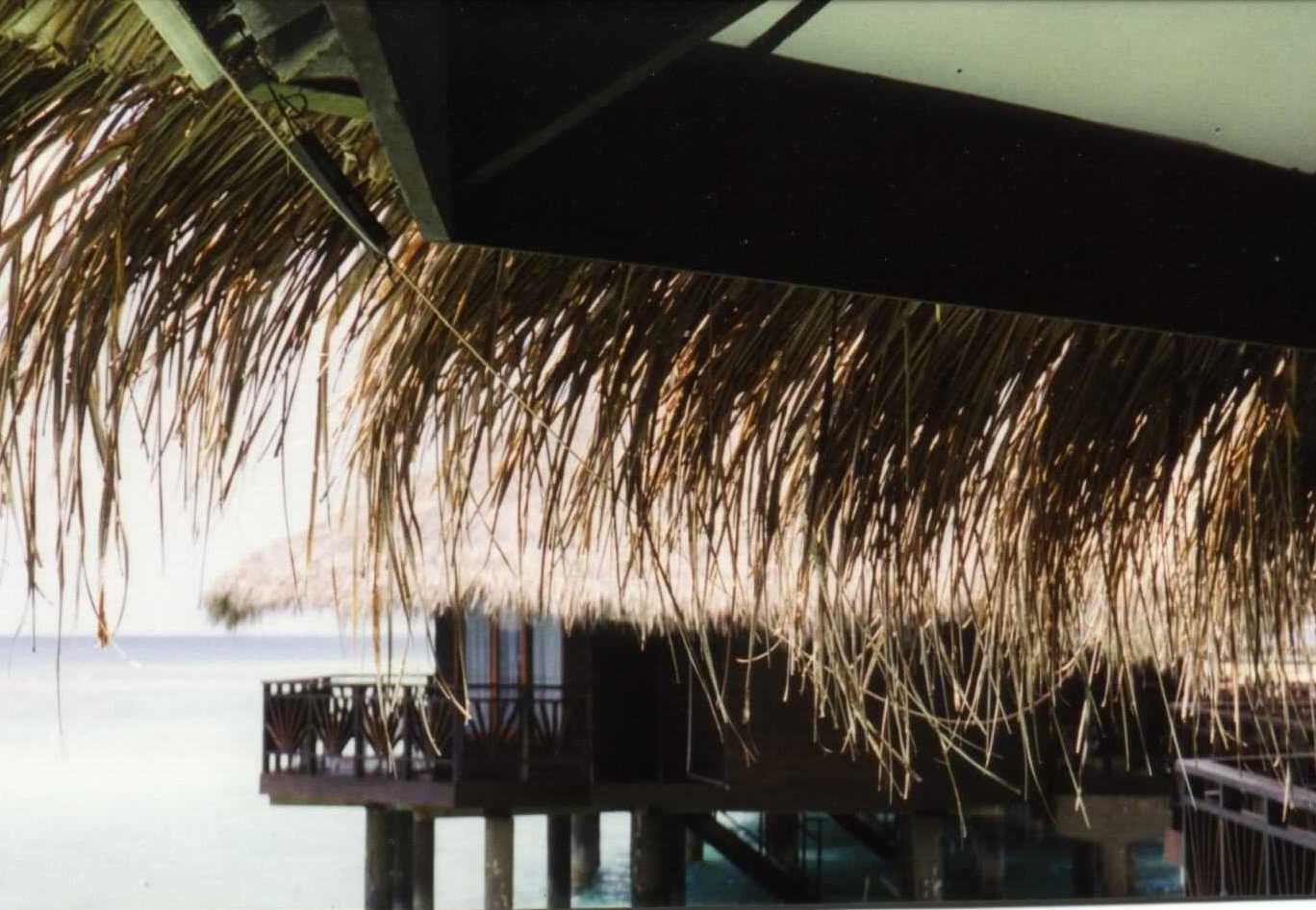 Der Antennendraht erstreckte sich zum (von unseren Freunden bewohnten) Nachbarbungalow ca. 5 m über das Wasser. Die große Länge wurde für Betrieb im 1,8 MHz Band (160 m Wellenlänge) gewählt - sonst hätte ein kürzerer Draht ausgereicht.
The antenna wire extended to the neighbor bungalow (occupied by our friends) some 15 feet above the sea. The great length was chosen for operation on 1.8 MHz (160 m) - otherwise a shorter wire would have been sufficient.
---
Abstimmgerät und Gegengewicht
(antenna tuner and counterpoise)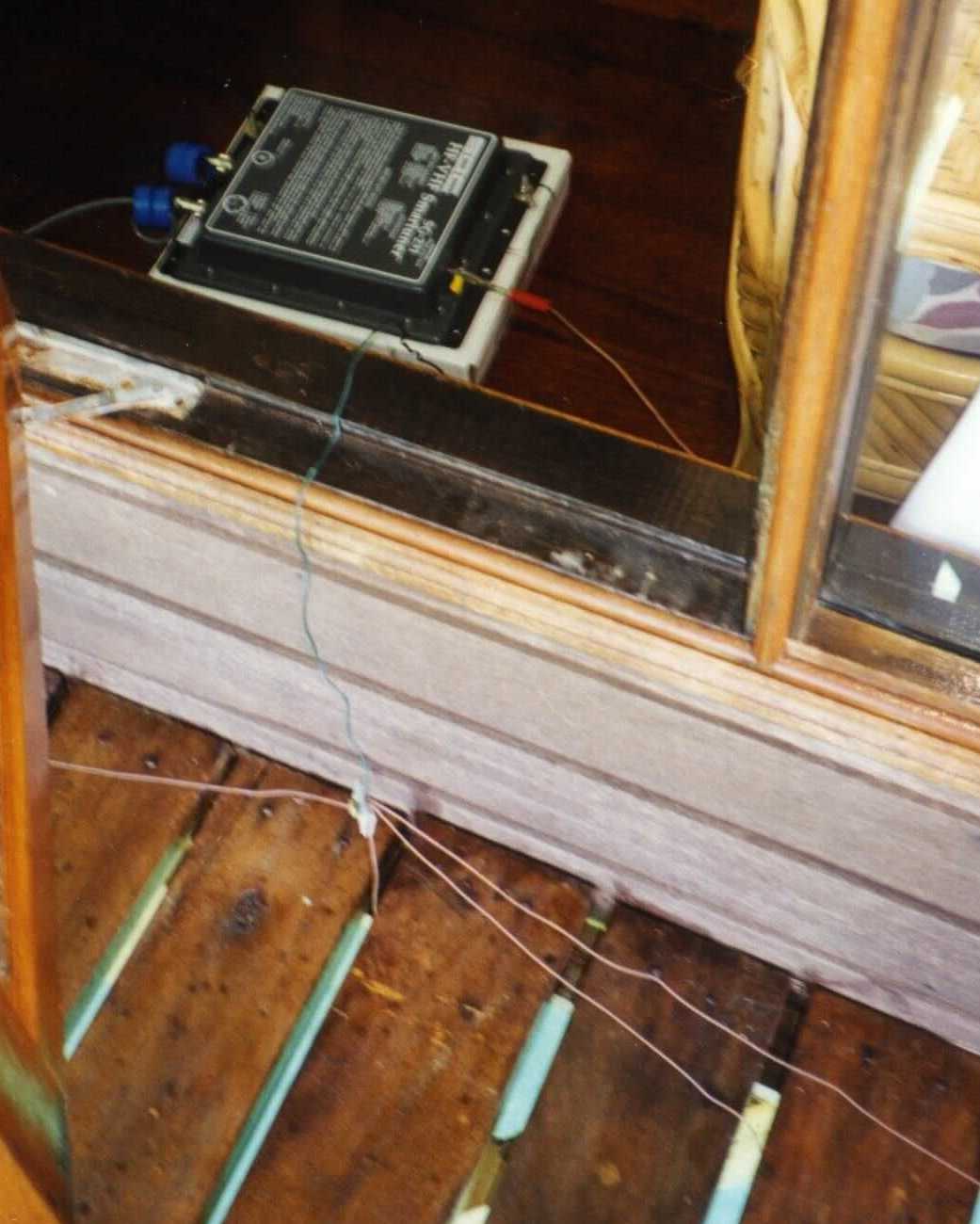 Antennenabstimmgerät, vier blanke Kupferdrähte nach unten ins Seewasser. Die Antenne ist mit dem roten Stecker angeschlossen. Die blauen Ferritringe über dem Speisekabel und der Steuerleitung verhindern, dass diese Kabel und damit die Station selbst Bestandteil der Antenne werden.
Antenna tuner, four bare copper wires down into the sea water. The antenna is connected with the red plug. The blue ferrite rings over the feeder cable and over the control wires prevent that these cables and the station itself to become part of the antenna.
---
Logbook
3 contacts in the CQ WW 160 m contest on 1.8 MHz to VQ9, Chagos - enough to be listed as first in the Maldives

1 contact on 3.5 MHz/80 m - with my own station operated by DJ6TK

about 60 contacts on 7 MHz/40 m

7 contacts on 10 MHz

about 250 contacts on 14 MHz

about 100 contacts on 18 MHz

6 on 21 MHz, 2 on 24.9 MHz, 2 on 28 MHz
---
Update 12-DEC-2003